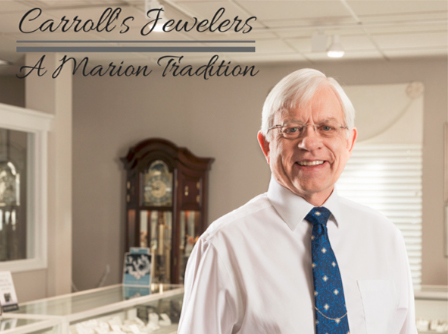 WELCOME TO CARROLL'S JEWELERS ONLINE!
When you select fine jewelry for yourself or someone very special, you are not simply making a purchase…you are making a statement. Whether it is fun, fashionable jewelry, or jewelry meant to express a forever love, your selection is a reflection of you. Come into Carroll's and meet with our consultants and let us help you make that perfect statement.
Perhaps you have inherited a treasured piece which may need some repair, or perhaps a refresh from a dated design. We will gladly assist you. Maybe a new stone for a beloved ring? Consider your diamond set in a new ring or necklace. We will help you create the perfect design. 
Just stop in and see us, or call in advance to make an appointment. Either way, we are here to serve you, just as we have served our thousands of loyal customers for over many decades. 
Lowell Thurston is committed to Downtown Marion, along with many other fine retail establishments.  Consider visiting our store, the jewel of Downtown Marion.